Play
---
Looking to Play Field Hockey?
Here is some information on our programs.
Red Deer
We are hosting an all ages Try it Free on Sunday May 29, 1:30 - 2:30 pm
For more details on the try it for or any of our youth programs click here!
Calgary FUNstix:
Funstix is a community based program geared towards our youngest athletes (ages 7-10).
This grassroots community based program introduces the FUNdamental skills of the sport. Basic skills are taught through fun drills, and weekly mini-games.
Click here U8 - 10 (Born Jan 1, 2012-Dec 31st 2016)
Click here U7 (Auburn Bay Pilot Program) (Born Jan 1st, 2016-Dec 31st, 2017)
Calgary Junior Field Hockey:
CJFH introduces field hockey to young athletes aged 10-12 through their U12 program. Great for beginners and experienced players alike! Weekly games and practices are developed to provide fun, friendships, and success.
Ages U12 (born Jan 1, 2010 to Dec 31, 2011)
Youth aged 13-18 are invited to develop their physical capacity and field hockey competency through our diverse group of clubs offering youth programs. Athletes participate in weekly games at the University of Calgary Turf and practice with their club on the dates/times of choice.
U14/U16 (born Jan 1, 2006 - Dec 31st 2009)
Ages U18 (born Jan 1, 2004 to Dec 31, 2005)
U23 Learn & Play program (ages 16-23)
Calgary Ladies Field Hockey Association:
Sine the 1990's, the CLFHA outdoor leagues have grown to 22 outdoor teams playing in three divisions. There is also renewed enthusiasm for more growth with the possibility of additional facilities becoming available.
With the weather in the prairies being a contributing factor, the indoor game has become a key part of hockey in Calgary where the indoor league continues to thrive and grow. The number of indoor teams has grown to 23, playing in three divisions.
Visit: ww.CLFHA.com for more details!
Field Hockey Association of Calgary (Men's):
FHAC strives to promote and develop the game of outdoor and indoor field hockey for men and mixed teams through competitive and recreational games for players, coaches, officials and spectators.
For more information on FHAC, click here
Field Hockey Canada:
For information on Field Hockey Canada and the different contacts for each provincial field hockey program, please click on the below link.
http://www.fieldhockey.ca/about-us/provincial-associations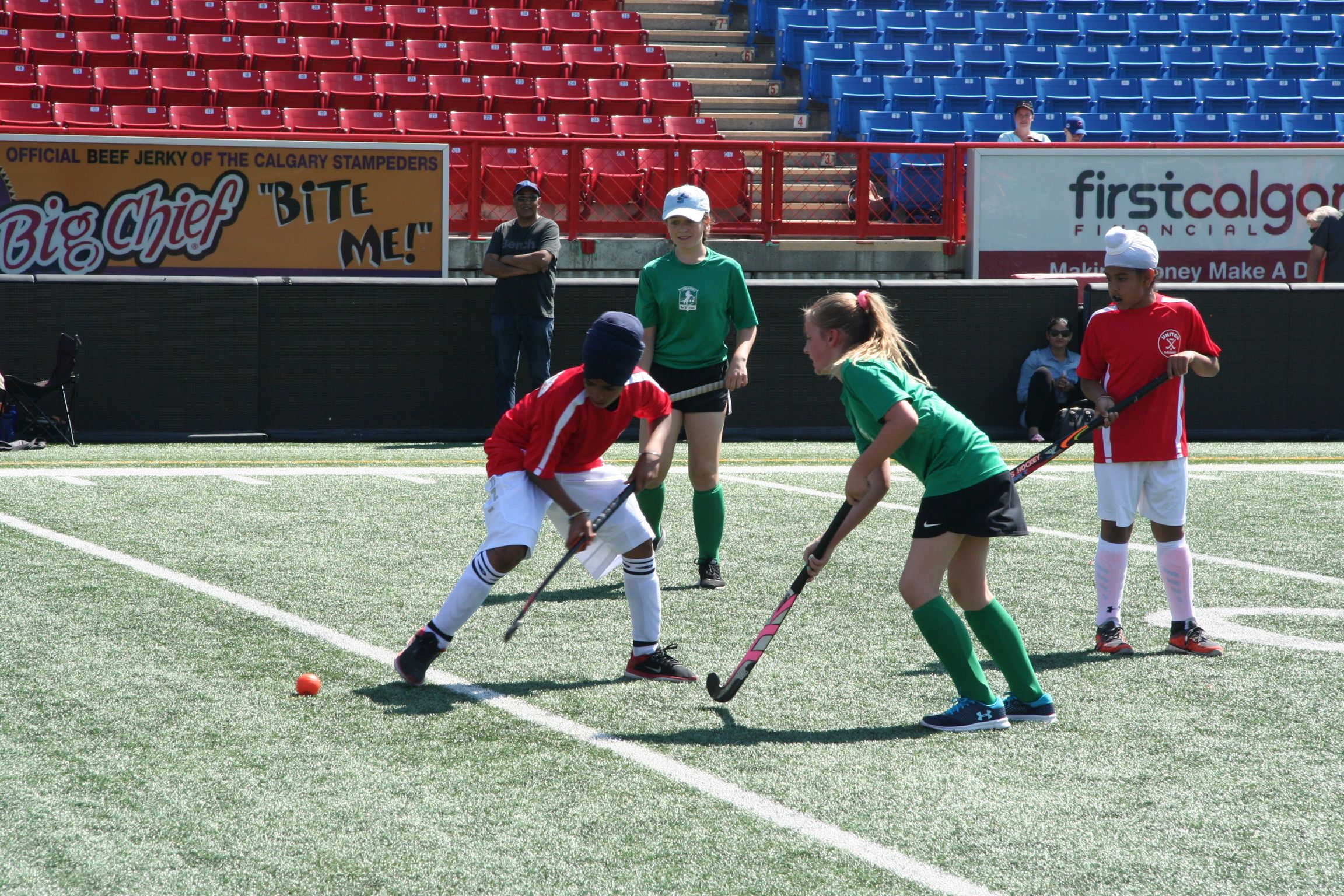 Why I need to be a Field Hockey Alberta membership:
The membership categories listed below are to ensure that all of our athletes, both junior and senior as well as coaches and officials are represented at our Annual General Meetings and Special General Meetings. The membership fee includes insurance for all athletes, parents, coaches, volunteers, board members, etc. in case of an accident or emergency. The annual membership fee is mandatory for all members of any Alberta leagues, programs, festivals, tournaments or events.
Membership services include the following:
Infrastructure
Education, Certification and Professional Development for Coaches & Officials
High Performance Provincial team programs, National team camps, regional academies
Hosting Domestic tournament, local tournaments and in the future we plan to host international events
Grassroots and junior development - junior club programs in major centres, for both indoor and outdoor field hockey throughout the year
Communication via website and newsletters to provide our membership with updates from across Alberta and Canada.
Members insurance coverage
Membership Categories
Senior Player (over 18) - $30.00 (FHC Fees also applicable - $38.00)
Junior Player ( U18) - $23.00 (FHC Fees also applicable - $17.00)
Associate Member - $50.00
Coach/Umpire - $0.00 (FHC Fees applicable - $15.00)
All Membership fees can be paid online through our registration link.
Individual Membership
For the membership year: September 1st to August 31st, of each year.
Membership Fees are due at the start of your season, please pay at the beginning of the indoor season (fall) and if you haven't played during the winter months, please pay in the spring in full before the start of the outdoor season.
Registration Process
Every field hockey player, coach and official is required to register ahead of participation. Each member will be required to pay membership fees for BOTH Field Hockey Alberta (FHA) and Field Hockey Canada (FHC) unless otherwise stated.
The new membership year opens September 1 regardless of last date of registration.
Members only need register in ONE category.
The option to register will be open throughout the year with the membership year running September 1 - August 31.